January 25, 2019
-
January 26, 2019
February 12, 2019 @ 8:00 am
-
February 13, 2019 @ 2:00 pm

Ever wish you could follow up with our chapel speakers? Ask them to go deeper, to clarify, to help you apply? The Forum provides students with the opportunity to hear from chapel speakers on a more personal level. Join us for this time of Q&A with key leaders and preachers. Lunch provided.

This program is an opportunity for a select group of students to serve the seminary. With insight from local leaders, faculty, and staff, these students will receive unique experience and practical skills in preparation for a lifetime of fruitful ministry.
learn more ›

Participation is open to all our seminary and undergraduate students by audition only prior to class registration. Rehearsals promptly begin at 9am, and chapel begins immediately following at 10am. There are no course fees associated with this band. Contact the Department for Worship Ministries for audition information.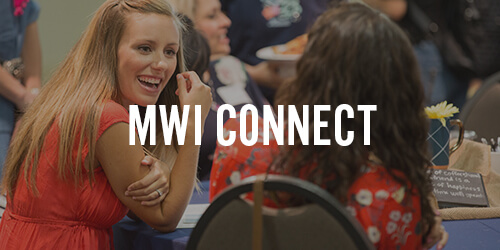 MWI Connect was created for making connections with other ladies on campus. We've found that reaching out and forming lasting, godly friendships is crucial to creating a support system to draw from, both now and after moving on.
learn more ›

Dr. Tom Johnston founded the Midwestern Evangelistic Teams as the practical arm of his evangelism classes, gathering students every Saturday to share the Gospel through door-to-door evangelism in partnership with local churches.
learn more ›

The Midwestern Missions Fellowship meets three to four times a semester on Friday evenings for the purpose of fellowshipping with students, spouses, and faculty who are interested in International and North American missions.
Register for Classes
College/Masters Students
THM Students
Doctoral Students
Academic Catalogs
The 2018-2019 catalogs contain financial and academic information, offered courses of study, as well as course descriptions.
Financial Services
The financial services office can help you with tuition payment options and questions regarding your financial account. More information below:
Financial Aid
The financial aid office helps you answer questions about scholarship options, military benefits, and questions about funding your education.
Tuition Due Dates
SUMMER 2018
On Campus Deadline – April 30
Online Term – April 30
Online Term B – June 18
FALL 2018
On Campus Deadline – August 13
Online Term A – August 13
Online Term B – October 8
Online Term C – August 13
IT Helpdesk
Email – helpdesk@mbts.edu
Phone – 816-414-3763
Hours – Monday-Friday
8am-12pm, 1pm-5pm
LIBRARY
---
Joshua is a research tool that searches both items in our catalog and articles from most of our databases at the same time. This tool will display thousands (even millions) of results that will include books, e-books, and journal articles. The Discovery Service will allow you to easily and quickly narrow down your results.
Library Hours
Open to the Public:
Mon-Fri: 7:30AM-5:00PM
Tue-Wed: CLOSED 10:00AM-11:00AM for Chapel
Open to Students:
Mon-Tues, Thur-Fri: 7:30AM-10:00PM
Wed: 7:30AM-5:00PM
Sat: 9:30AM-3:00PM
Sun: CLOSED
Stay Updated
Resources
For the
Church
For The Church exists to engage, encourage, and equip the Church with gospel-centered resources that are pastoral, practical, and devotional. Take a look at some of our resources that are available to you: